Let us help you sell your car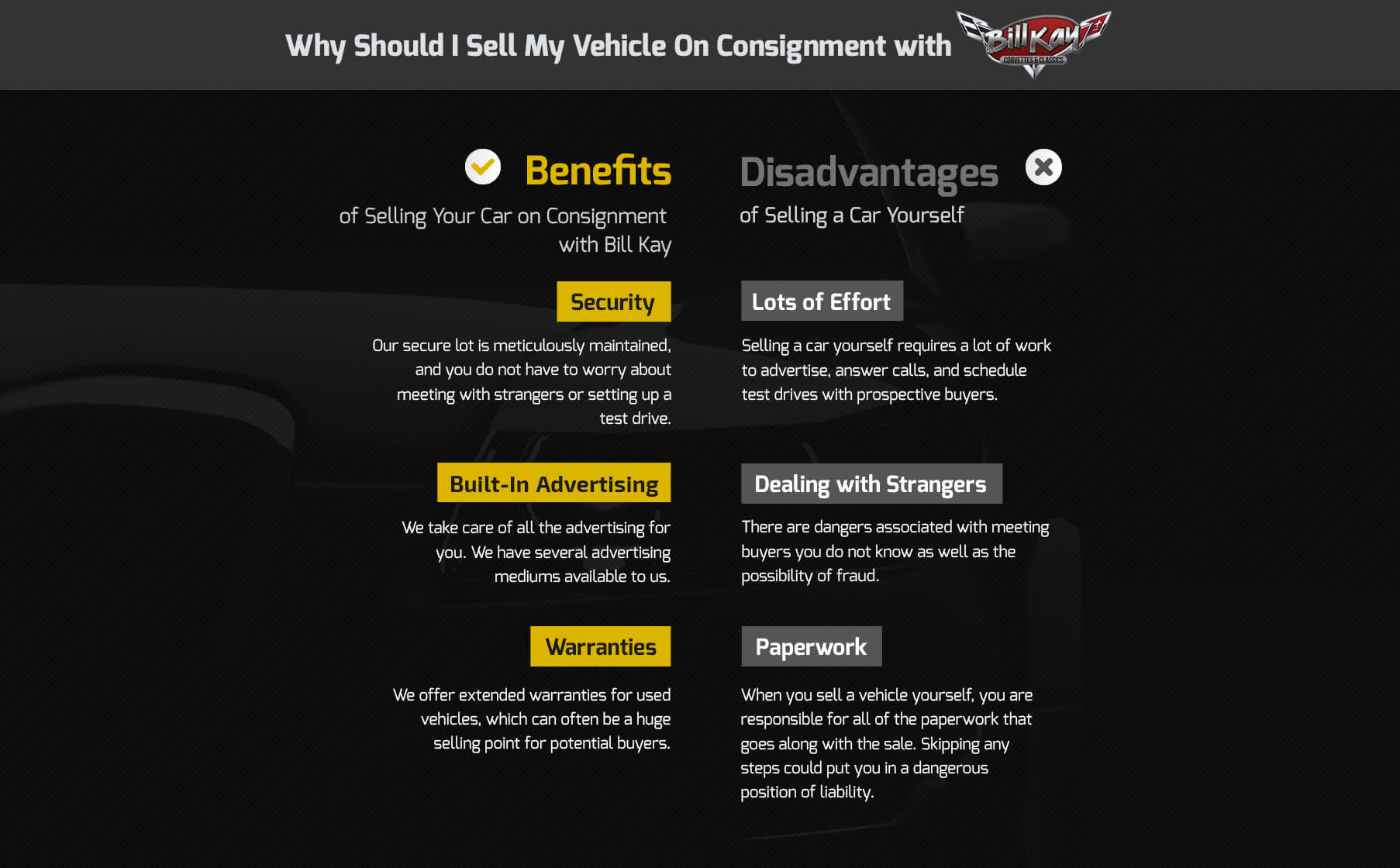 Bill Kay Consignment
At Bill Kay, we love Corvettes. We love them so much that we now offer an innovative, easy way for anyone, nationwide, to sell their Corvette through our dealership's consignment sales program. You'll reap the benefits of selling through a trusted dealership with built-in advertising and highly knowledgeable, dedicated, helpful sales professionals. You'll also avoid the hassle that selling yourself can bring. Let us help you sell your Corvette quickly and easily with zero risk and zero hassle!
Considering Private Selling?
Private selling is one option drivers have when looking to sell their vehicle but many people don't realize just how much work goes into selling a car.
To sell your vehicle in a timely manner, it is necessary to advertise. You must also be available to answer any inquiring calls or emails from interested buyers. The biggest hassle of all will likely be setting up test drives that work for your schedule and the prospective buyer.
Meeting with buyers you do not know could be dangerous and there is the possibility of fraud.
When you privately sell a vehicle, you are the one who has to handle all of the paperwork. Accidentally missing or skipping a step could put you in a position of liability.
If you would like to avoid the stress of selling your car, our consignment program is the ideal alternative.
Our No-Risk Program is Simple
The Corvette Consignment Sales Program is designed to be simple and efficient. Just bring your Corvette to one of our two dealerships in Downers Grove, IL. From there, we will work with you to create an individualized consignment plan to determine the price of the vehicle and consignment fee structure. If we are unable to sell the vehicle within a reasonable timeline, just pick up the vehicle. If the vehicle doesn't sell, you won't owe the dealership—absolutely no risk or hidden fees!
Why Selling Through Us is Better
There are many benefits to selling through Bill Kay's Corvette Consignment Sales Program. In addition to the completely mitigated financial risk, effective advertising, and full-time dedicated Corvette sales professionals, you'll also enjoy:
The security and peace-of-mind of not having to deal with dodgy sales and test drive situations yourself. No meeting up with strangers, no risky test drives.
- Our ability to provide warranties and financial assistance is another plus. Buyers are attracted to the benefits that come with reliable, quick financial decisions and extended warranties. We work with over 30 banks that specialize in all credit situations. Our financial professionals can shorten the financing approval process so that the buyer can get approved right away, instead of the days-long process of private sales financing.
- Our dealership can also offer many different extended warranty options, which can help give the potential buyer the confidence they need to complete the sale.
- Our safe, secure, and highly monitored lot provides optimal visibility. Your vehicle will be seen by potential buyers and maintained by our staff. We will even move your car periodically to avoid tire spots and increase visibility.
Find Out More About Our Program Today!
Our dedicated, knowledgeable Corvette sales experts are ready to help you sell your Corvette for a great price! Contact us now for more information and to get all of your questions answered.